The days of the stuffy, awkward office party are gone. With so many potential office party themes, entertainment and food options, there's no longer any excuse for hosting a boring corporate function. An office party can help raise the spirits of your staff and help them to feel appreciated by their company.
Try these 30 themes for office events to boost employee morale and build a fun workplace culture. Explore dress-up party ideas, food themes and more for workplace and corporate functions:
Ready to book a venue for your next office party? Contact the Heritage Center to connect with one of our expert event planners! With our decades of experience planning effortlessly extraordinary events, the Heritage Center is your partner in corporate party success!
Office Party Ideas for Every Occasion
Businesses will gather to celebrate in a fun or unique way for all kinds of reasons, from employee appreciation events to corporate anniversaries, charity fundraisers to holiday parties.  Events like these can help to raise team morale and help employees to feel valued by their company. While an office party can be held anywhere, events that take the team out of the office and into a new, fun environment can be especially successful.
Some reasons to host an office party include:
Employee Appreciation:

This event might celebrate or reward team accomplishments, or simply offer employees a chance to blow off steam and have a good time. 

Holiday Party:

Office holiday parties

generally happen in the winter months and are usually thrown to acknowledge the holiday season,

swap small gifts

, share a meal together, etc.

Corporate or Work Anniversary:

A

corporate anniversary event

celebrates a milestone anniversary for the business or organization, and is hosted to honor the team, especially long-time employees, and raise brand awareness and credibility. A

work anniversary party

celebrates a specific employee's tenure at the company, usually on the order of decades. These events boost morale and show appreciation for loyalty and hard work.

Just Because:

Companies that often host office parties or events tend to have better employee satisfaction — so who says there needs to be a specific reason to party? Events that encourage employees to mingle, relax and enjoy time together foster bonding among coworkers and decrease workplace stress.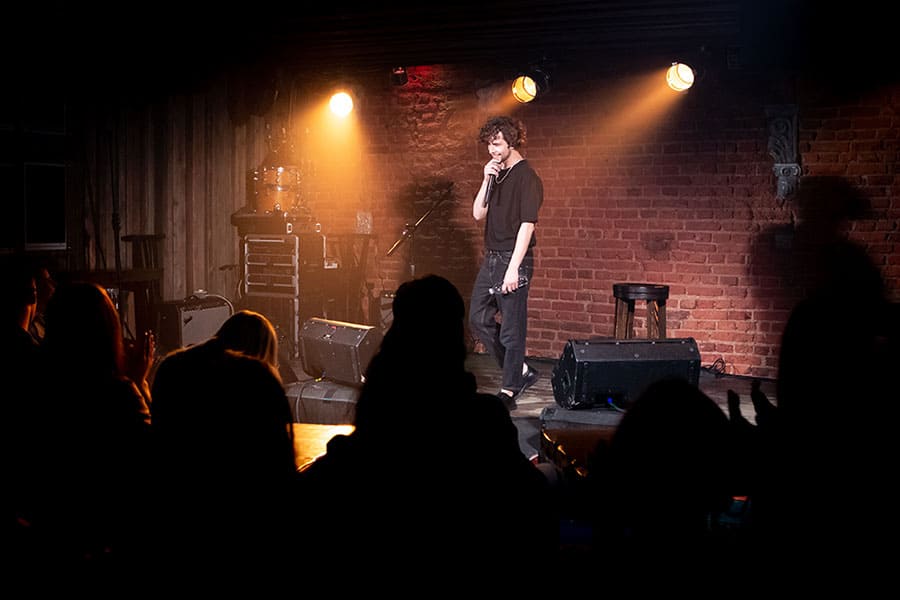 20 Fun and Unique Office Party Themes
Looking for a list of unique corporate function themes? Look no further! Here are 20 company party ideas that put the "fun" in "work function": 
Bring Your Pet to Work Day –

Who doesn't love having a furry friend or two around the office? Throwing a Bring Your Pet to Work Day will delight employees by giving them a chance to have their best friend around the office. Just make sure everyone in the office is comfortable with the presence of dogs!  If your office isn't pet-friendly, consider hosting a Bring Your Pet to Work event in a nearby park, outdoor space, or pet-friendly brewery or restaurant. 
A Night at the Circus –

This theme imagines you and your team beneath the Big Top! Enjoy popcorn, peanuts, cotton candy, hot dogs and all the carnival games you can imagine: Ring toss, pick-a-duck, dunk tanks, bean bag toss, spin-the-wheel . . . the possibilities for fun and games are endless! Bonus points if members of the leadership team volunteer to be the carnival barkers, game attendants and dunk tank participants, of course. 
Ugly Sweater Party –

Most folks are familiar with the concept of an Ugly Christmas Sweater Party, but this theme can be fun any time of the year! Employees are encouraged to wear the ugliest sweater they can find to the office, and the whole team can vote on first, second and third place winners! Ugly sweater-themed decor, warm beverages like hot cocoa or apple cider, and comfort food snacks are all highly encouraged. Remember that although the theme of the day may be "ugly," the day's activities should be all in good fun! 
Office Olympics –

This theme is great for during the summer or winter Olympics, or any time the team can get outside for some physical activity! Divide participants into teams and pit them against each other in a variety of "Olympic" games, like tug-of-war, relay races and three-legged races. You could also lean into the "office" Olympics theme by putting a twist on standard games — think rolling chair races, office supply scavenger hunts, or conference table ice curling. Safety first, though! You may need to crowd-source some bike helmets, knee pads or other basic safety equipment to ensure no one walks away with an Olympic-sized owie. 
Casino Royale –

Roll 'em up, roll 'em up! It's a night at the casino! Whether you play for cash or for giggles, it's always entertaining to bust out some casino games at a work party. Any space that can fit a large number of tables and transform into a casino hall for an evening will work for this theme. Bring in some Vegas vibes with bright neon lights and dancing water fountains, or go even

bigger with your entertainment

by way of showgirls, aerial silk performers and beyond. Passed hors-d'oeuvres and cocktails are a must! Many casino-themed corporate events also double as charity fundraisers, in which case other activities, like a silent auction or basket raffle, would be welcome additions. 
Family Fun Day –

Get the whole family in on your office celebration! A company-hosted family fun day is a great way to show appreciation for employees while acknowledging their families and work-life balance. A large outdoor space is perfect for this type of event. Fill the space with family-friendly activities, games and entertainment, like face painting, carnival rides and games, and craft stations. For food, you can grill up some simple hot dogs and burgers, cater a picnic lunch or barbecue, or even rent some food trucks for the day. The sky is truly the limit at an outdoor event like this! 
Fandom Friday –

It's time to get in touch with your geeky side! This theme encourages employees to dress up as a character from their favorite fandom (think Doctor Who, Star Wars, Harry Potter, Supernatural, etc.) and flaunt their nerdy knowledge. Pop culture trivia, themed cocktails, a costume contest and themed photo booths bring it all together. While you could cater in sandwiches or order pizzas (a true nerd staple, to be fair), this theme offers an opportunity to really get creative with your menu. Think a feast worthy of Hogwarts' Great Hall complete with roast chicken, pasties and sticky toffee pudding, or order up some Jedi-approved space fare from one of the official Star Wars cookbooks. 
Pajama Party –

The comfiest theme of all, a pajama party invites employees to indulge their casual side. Wear your favorite work-appropriate pajamas, the dorkier the better, bring your pillow and blanket, and get cozy at your cubicle! Iconic slumber party snacks are a must here: Pizza, popcorn, candy and soda. Throw some upbeat tunes from your tween days over the office sound system and party like you're staying up past midnight! 
White Elephant Exchange –

Fun and funny for the holiday season, a White Elephant Exchange is a unique twist on the standard office gift exchange or Secret Santa. In this type of exchange, everyone brings in a wrapped gift and draws numbers to determine the order in which they will play. Sitting in a circle where all the wrapped gifts can be seen, the first player selects a gift and opens it. The following players can then choose to pick an unwrapped gift from the pool or steal a previous player's gift. Anyone who gets their gift stolen in this way can do the same – choose a new gift or steal from someone else. After every player has had a turn, the first player gets a chance to swap the gift they are holding for any other opened gift. Anyone whose gift is stolen may steal from someone else (as long as that person hasn't been stolen from yet.) When someone declines to steal a gift, the game comes to an end! White Elephant can get raucous and competitive, so happy swapping!
Movie Night –

There are two ways to host a successful office movie night: In the office or at a theatre. For the former, rent the largest screen you can and bring in comfy chairs, if possible. Choose a work-friendly film (perhaps let employees vote on some pre-determined choices) to screen, and bring in all the concession stand goodies we know and love: Popcorn, candy and soda, of course, but also warm, soft pretzels, nachos, hot dogs and Icee slushes. If you'd rather treat the whole crew to a night at the theatre, even better! Most movie theatres will rent out individual theatres for corporate events, and many are home to full-service bars and restaurants in addition to the concession stand. You may choose to pay for employees to have their meal or concessions at the theatre, or you may choose to pay only for the film portion of the evening, whichever works for your budget!
Game Night –

Like casino night, minus the gambling! Game Night invites employees to revisit their favorite childhood board games and get into a little friendly competition with their colleagues. All you have to do is provide the games and the food! But if you want to go above and beyond, why not try some game-themed decor? A Candyland theme or The Game of Life theme is sure to get some appreciative laughs! 
Paint & Sip Party –

Paint & Sip parties can be done in the office, at a venue, or at the storefront of the activity provider. Led by a professional event host and painter, participants are walked through the steps of painting their own take-home masterpiece while enjoying a glass of wine and some light appetizers. This is a great option for a more low-key event that allows employees to relax and be creative without the pressure of being on the clock.
Happy Hour –

Who doesn't love a simple happy hour? Whether you take the action off-site to a favorite local bar or restaurant or have a BYOB event at the office, a happy hour is sure to be a hit. Provide a variety of drink options, both alcoholic and zero-proof, and some snacks. An upbeat playlist including Top 20 hits and throwback chart-toppers is always a crowd pleaser. 
Comedy Night –

Coworkers who laugh together work better together — at least, that's what we believe! Time for a company field trip to your favorite comedy venue to see some live performers in action. This office party idea is unique and offers the opportunity to bond through shared new experiences. Grab a drink, have a laugh, and you'll all have something fun to talk about around the water cooler on Monday!
Escape Room Adventure –

Escape rooms are all the rage, and for good reason: They promote teamwork, critical thinking and bonding among coworkers. There's a variety of types of escape room themes to choose from, so select one that will appeal to most, if not all, of the participants and is appropriate for a work outing. (Sherlock Holmes mystery = yes, American Horror Story theme = no.) Reward the team for an escape well made by buying a round of drinks afterward! 
Totally 90s –

90s kids, this one's for you! Encourage everyone to come dressed as they did in the 90s, from baggy overalls to tube tops and jelly jewelry. The snacks on deck? Lunchables for all, plus Dunkaroos, Cosmic Brownies, Gushers, Fruit by the Foot, cheese balls, Hi-C and Yoohoo. 90s artists should be playing on the boom box, and 90s TV shows streaming. Awesome, dude! 
Under the Sea –

You don't have to be a mermaid to appreciate this theme! For an upscale spin, make this a formal affair featuring fine seafood, bubbly cocktails and ocean-inspired decor, like deep blues throughout the tablescapes and lighting. Alternatively, you could opt for a casual take on the Under the Sea office theme, bringing the ocean to the office with a grill-out or catered-in popcorn shrimp and lobster rolls, shandy beers, and key lime pie. Beachy tunes and activities like beach volleyball (or parking lot volleyball — sometimes we have to make do!) or a bonfire will complete the seaside vibes.
Milk & Cookies Party –

Why wait for the holidays to indulge in some delicious baked goodies? The premise of a milk and cookies party is simple: Each attendee bakes their favorite cookie recipe and brings in enough for everyone. The host (that's you, leadership team or social committee!) provides the milk, cups, plates and napkins, then everyone digs in! It's a fun twist on the classic potluck! Activities could include "Pin the Cookie on the Monster," milk gallon-holding contests (a la stein holding) or simply offering time to hang out, relax and chat over some sweet treats.
Masquerade –

Who's that behind the mask? It could be your work BFF — or the CEO! A masquerade theme is a classic for a formal corporate event, typically in a ballroom-type venue. Formal, black-tie or even white-tie attire is recommended, complete with masquerade masks. This is another theme that offers a wonderful opportunity to go big with theming,

entertainment,

food and beverages, and beyond. If there's a fundraising or charitable element to your event, even better! Everyone will leave wondering about the identity of that big bidder at the silent auction . . .
"Worst Gift Ever" Party  –

For a hilarious spin on workplace gift exchanges, why not try a "Worst Gift Ever" Party? This type of exchange functions just like a Secret Santa, with one caveat: Each participant will be gifting their match their "worst gift ever!" For example, let's say the worst gift you ever received was a nose hair clipper. That's what you're gifting your match! This idea works best if everyone participating is on board and thinks it's funny to receive a truly bad gift. The best part? Asking everyone the story behind their "worst gift ever" and letting the hilarity ensue.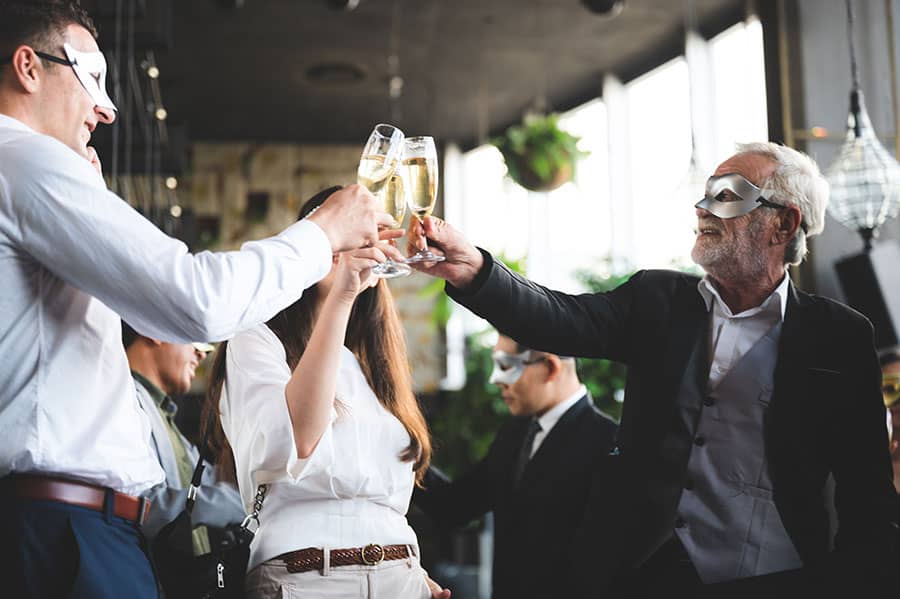 5 More Costume Dress Theme Ideas for the Office
These office party ideas require awesome attire! If you and your team love a costume party or a reason to get dressed up, these are the work party themes for you: 
Dressing Through the Decades –

Let's get retro! Any larger venue that you can dress to the nines with decor and memorabilia from various decades will work well for this theme. Ask attendees to dress as if they're partying in their favorite decade, from 1920 through to 2000. Ask the DJ to play a mix of songs from these decades, too — no current hits here! Classic American food, like juicy cheeseburgers, fries and apple pie covers all your culinary bases with a hint of nostalgia. The cocktail menu can start with speakeasy favorites, move into Don Draper's drinks of choice, and end with more modern favorites, but be sure to include hand-spun milkshakes and homemade sodas for the non-drinkers, too! 
Murder Mystery Party –

Whodunnit? During this party, you'll solve a crime with the help of hired actors, cool props and fake identities for all involved! Hiring a Murder Mystery Party company makes this experience easy to plan; all you need to do is choose an appropriately grand venue! Costumes are highly encouraged (think the Golden Era of Hollywood or "Murder on the Orient Express), as this theme tends to work best for groups that are extroverted and love performing or audience interaction. For food and beverage, either a full meal or a wine and cheese spread would be appropriate. Good luck, detectives! 
Game Day –

Less involved than the previous two costume party ideas, a game day theme is a much more casual way for everyone to show some spirit! Take advantage of a sports-season event, like the start of NHL playoffs or March Madness, and invite everyone to wear their favorite jersey to the office. Even better, go watch a game together, either at a favorite bar or at the stadium itself! Game day snacks + beer + great company = an awesome corporate outing. 
Derby Party –

Time to bust out the big hats and bow ties! Do it up in Southern style at a Kentucky Derby-themed party. Guests will wear their Sunday best and watch the Derby together while sipping mint juleps and noshing on finger foods. Lawn games are especially popular for Derby-themed events, so consider renting a croquet set or setting out some bean bag toss. 
Hollywood Glamour –

For a formal corporate party, no theme is more elegant and classic than Old Hollywood Glamour. Transport guests back in time to the heyday of the silver screen and its stars with live big band music, a red carpet and rented paparazzi snapping their photos and shouting their names! Champagne is the drink of choice, naturally, and your menu should reflect the opulent luxury of the team, featuring steak, lobster or local delicacies.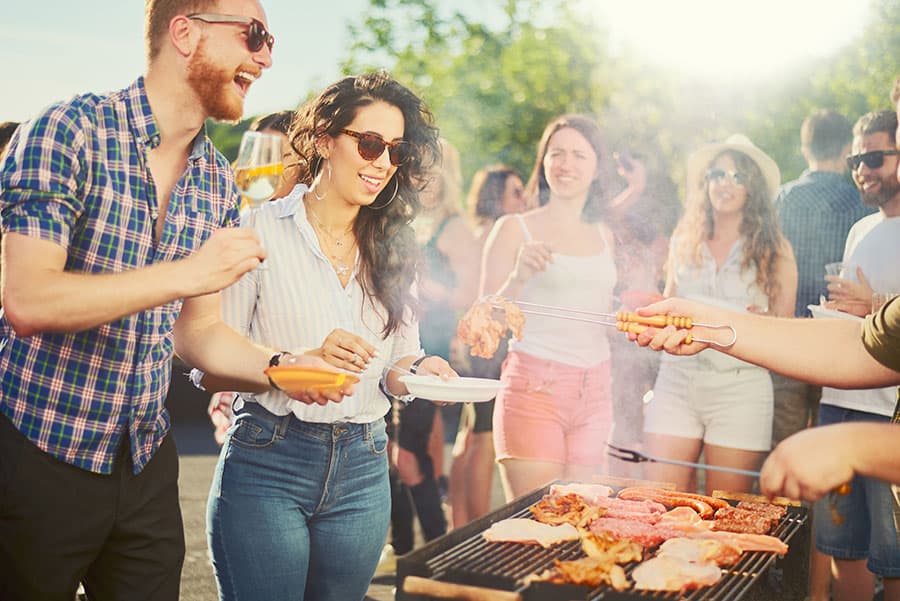 5 More Food Themes for Work Parties
Hungry for more work party ideas? Good news: We're serving up five more food themes for work parties. Take a bite out of these delicious office celebration ideas:
Classic Summertime BBQ –

A summertime barbecue is the perfect environment for employees to relax and unwind together. For this foodie theme, don't overthink the menu too much. Burgers, hot dogs, barbecue chicken, potato salad, corn on the cob, chips and fresh fruit is a simple, complete spread of summertime favorites. Cool off with some cold beer and lemonade, or mix up some classic summer cocktails like sangria or spritzers. 
Mexican Fiesta –

Why wait for Taco Tuesday to enjoy some fantastic Mexican food? This theme works great as a buffet-style setup, where guests can DIY their own tacos, burritos or nachos to their liking. Margaritas are the obvious choice for cocktails, but you could also throw in some sangria or mojitos. If the weather is nice, move the party outside and take your food al fresco! 
Hawaiian Luau –

Enjoy a Hawaiian vacation without ever having to get on a plane! If you're lucky enough to live or work near a sandy beach, that's the end-all, be-all of venues for a Hawaiian luau work party, but otherwise, an indoor or outdoor venue that can accommodate all the themed decor and entertainment you desire will work nicely. As for that decor and entertainment, great office luau party ideas include tiki torches, live hula dancers or fire dancers, or even an actual pig roast pit. Go big or say aloha, right? Even if you can't spring for a pit roast, a Hawaiian barbecue spread complete with tiki cocktails can be achieved with an authentic Hawaiian caterer or culinary team with experience cooking Hawaiian food. 
Brunch Bash –

Brunch food + brunch cocktails = total bliss. This theme can be scaled up in decadence and indulgence as you see fit: Think chicken and waffles, bottomless mimosas, build-your-own Bloody Mary stations, shrimp cocktail, etc. Setting up a brunch buffet makes it easy for coworkers to come and go at their leisure during their regular workday. 
Food Truck Roundup –

Are food trucks the ultimate in awesome event food? Maybe! Employees will be thrilled to see a flock food trucks pulling up to the office or event venue. Add some live music and activities or games and you've practically got a block party on your hands! Look into food trucks that service your area, and try to rent a variety of trucks to ensure there's something for everyone.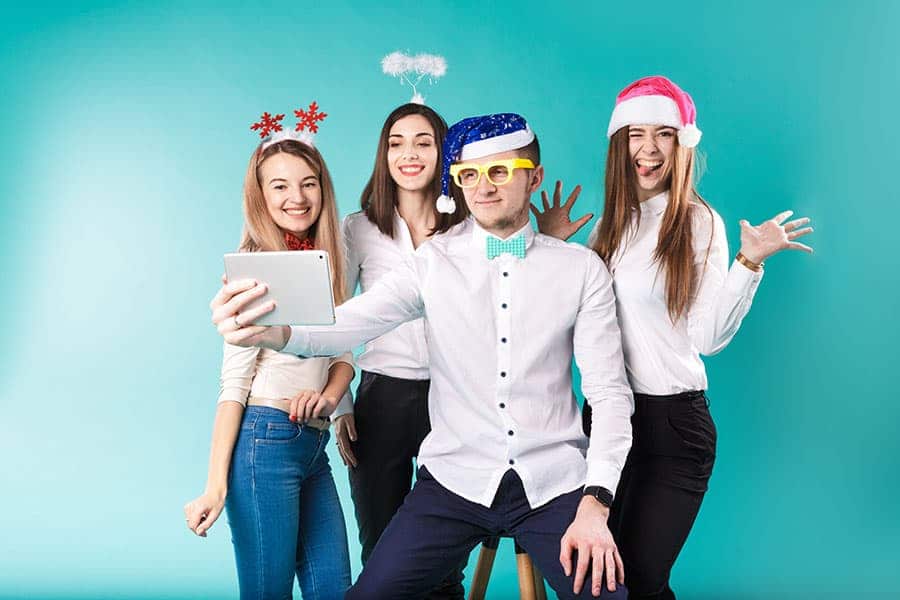 Office Party Decorations to Fit Your Theme
Great decor can go a long way in creating an atmosphere that engages your employees and makes your event memorable. Even a modest decoration budget can improve the overall feel of your event. Here are some basic staff party decorations that can be customized to your chosen staff party themes:
Balloons & streamers

Photo backdrops or photo booth

Stand-up paper cut-outs & photo props

Letter banners

Table centerpieces & flowers
Other Office Party Supplies You Might Want
Disposable/recyclable plates, cups and cutlery 

Party favors or goodie/gift bags

Power strips and/or charging stations

Hand sanitizing or wash stations

Raffle tickets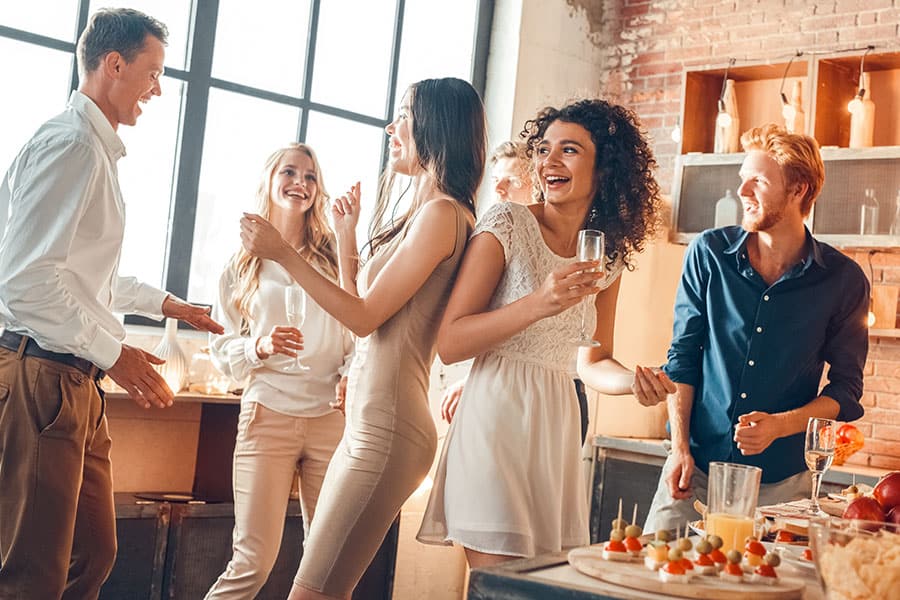 More Tips on How to Throw a Party for Coworkers
If it works with the theme and mood of your event, consider building in some team-building activities as part of the day's entertainment.
Bring Your Corporate Function's Theme to Life at the Heritage Center
The Heritage Center has seen and done it all when it comes to corporate events, and we'd be delighted to help bring your next corporate function's theme to life! Our expert event planners will work with you to achieve your event goals and create a cohesive work party theme and activities your guests will love. Contact us today to get started on planning your next extraordinary event!