With so many types of wedding themes to choose from, many couples struggle with how to pick a wedding theme that will align with their personal style and deliver a great experience to their guests. 
While there's no rule that says you have to have a themed wedding, selecting a theme that speaks to you and your spouse-to-be can aid your wedding planning process and guide your overall wedding aesthetic.
In this blog, you'll discover 15 unforgettable wedding theme ideas to make your big day truly special. From vintage glamour to celestial romance, find your perfect match among our favorite wedding themes below!
How A Wedding Venue Can Tie Into Your Wedding Theme
Your choice of wedding venue is the cornerstone of your wedding theme, a decision that can profoundly influence your overall wedding style. Before settling on a theme, consider your venue's style, as it should seamlessly align with your vision. For example, a rustic barn might lend itself perfectly to a charming, countryside-themed wedding, while an elegant ballroom could serve as the ideal backdrop for a classic, black-tie affair with sophisticated decor and attire. 
Additionally, the venue's decor rules and layout can impact your choices; be sure to closely investigate each venue's guidelines and available floorplans before making your final decision. By keeping your venue in mind from the outset, you'll ensure that every detail of your wedding aligns harmoniously with your chosen theme, resulting in a truly memorable and cohesive celebration.
Vintage Glamour
Imagine your guests stepping back in time to an era of grace and sophistication. A vintage-themed wedding evokes the allure of bygone decades, combining antique charm with timeless elegance. To achieve this dreamy look, select a venue with historic character, like a grand ballroom or stately mansion. Decor can include vintage china, candelabras and heirloom centerpieces. Vintage-inspired (or true vintage) attire, classic cars, and live big band or swing music will make your day truly enchanting.
Rustic Romance
If you're a couple that loves being out in nature, a rustic wedding theme might be right for you! Seek out venues with a pastoral charm, like a charming barn or farm-inspired venue, or a countryside estate. Wooden signage, mason jar centerpieces, and burlap accents add to the authentic rustic atmosphere. Don't forget to incorporate lush greenery and wildflowers to complete the look and help your guests feel as if they've stumbled upon a romantic rural retreat!
Beach Bliss
For those who love nothing more than the feeling of sand between their toes, a beach wedding is a natural fit. Select a coastal venue with breathtaking ocean views and allow Mother Nature to provide your decor, with the cerulean sea and golden sands as your backdrop. Embrace the beachy vibe with sun-bleached driftwood accents, tropical-inspired florals, and a laid-back dress code. After all, the beach is a perfect setting for a barefoot celebration!
Fairytale Fantasy
Every bride has dreamed of being a princess, and a fairytale-themed wedding can turn that dream into reality. Consider venues with a touch of magic, like castles or manor estates, enchanting gardens, or stunning mountaintops. Adorn your ceremony with glittering fairy lights, opt for a formal dress code fit for royalty, and sprinkle the day with whimsical details like horse-drawn carriages and enchanted-forest-themed decor. Your fairytale ending awaits!
Bohemian Rhapsody
Bohemian weddings are all about creativity, individuality and personality! Choose  a venue with an artistic flair that speaks to you and your spouse-to-be, such as a rustic barn, an art gallery, sculpture garden or brewery. Adorn your day with vibrant colors, flowing dresses and eclectic decor. Encourage your guests to embrace the free-spirited vibe with casual attire and a relaxed atmosphere. With these off-beat touches, your wedding day will be a celebration of love, freedom, and self-expression.
Garden Elegance
A garden-themed wedding is the epitome of romance and natural beauty. Look at outdoor venues surrounded by lush foliage, like botanical gardens or elegant estates. Let seasonal flowers be your decor inspiration, with cascading bouquets, floral arches, and rambling wildflower centerpieces. Elegant attire and an alfresco dining experience complete the picture for a wedding blooming with timeless elegance.
Cultural Fusion
Are you and your spouse-to-be from different cultures or backgrounds? Incorporating elements from both your traditions can be a beautiful way to celebrate your union. We recommend choosing a venue that offers a blank slate for decor that creatively fuses both cultures. Consider elements like traditional attire, rituals, and fusion cuisine to pay homage to your roots while forging a new path together.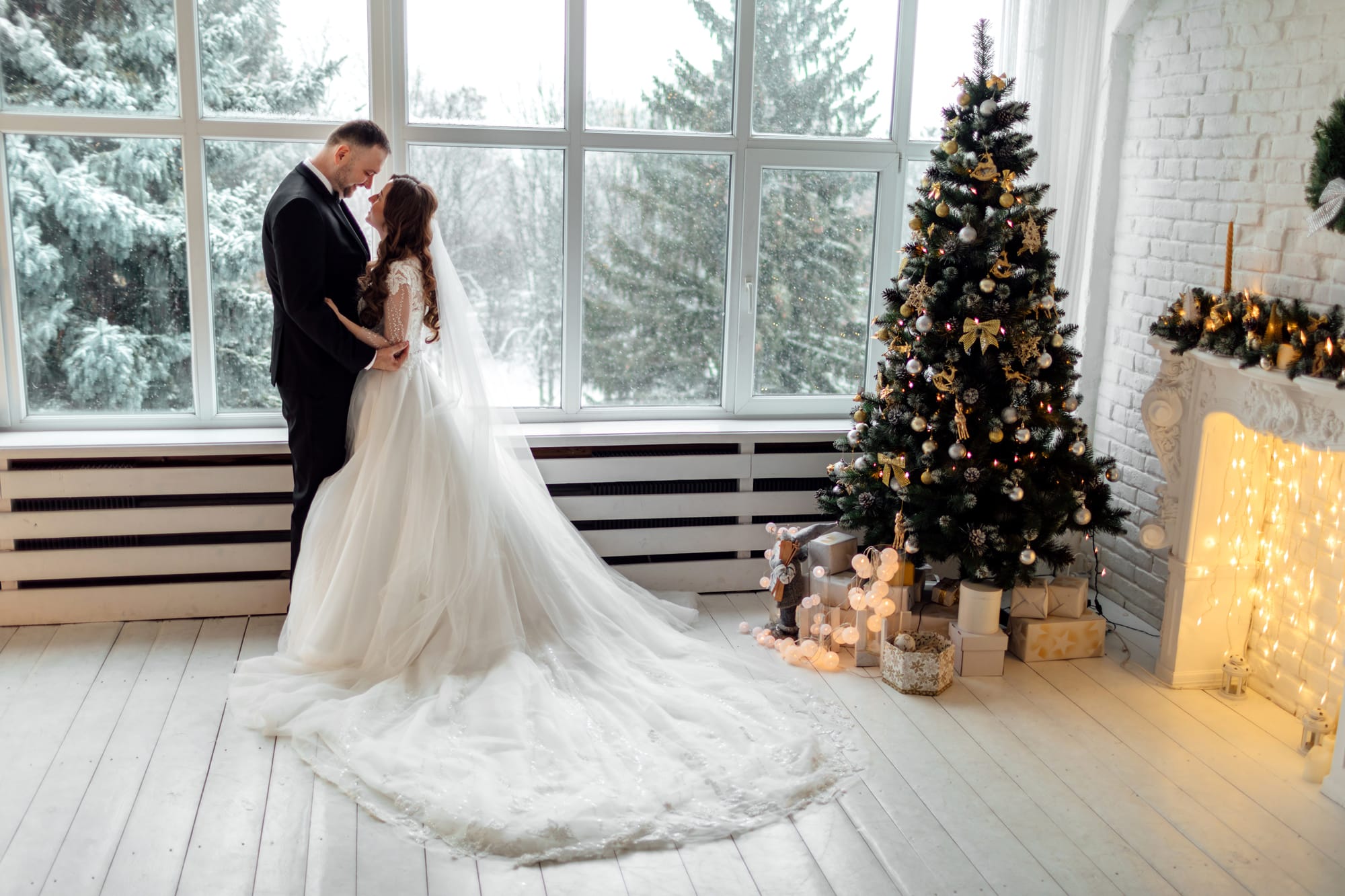 Winter Wonderland
With its crisp air, glittering snow and the promise of cozy moments, winter provides romantic inspiration for a cold-weather wedding. Select a venue with fireplaces and warm, inviting interiors, like a ski chalet, lodge or mountain top manor. Embrace the season with decor elements like velvet, furs, and wintery greenery. Keep your guests warm and entertained with hot cocoa stations, blankets, and all the love in the air!
Modern Minimalism
If your style leans toward less-is-more, a minimalist wedding theme is likely your perfect match. Choose a sleek, modern venue with clean lines and neutral tones. Keep decor simple, with monochromatic color schemes and minimal embellishments. Opt for minimalist attire and understated elegance for a wedding that lets your love take center stage. 
Nautical Nuptials
Set sail on a sea of love with a nautical-themed wedding. Look for waterfront venues or those that pay homage to seafaring life with maritime elements — or take it one step further and have your wedding on a yacht or other vessel! Incorporate classic oceanic colors like navy and white, along with nautical decor like ropes, anchors, and seashells.
Whimsical Woodland
Whimsical woodland weddings are a trendy choice for quirky, outdoorsy couples. Choose a venue nestled in the heart of the forest, or a garden adorned with twinkling fairy lights. Decorate with natural elements like moss, tree stumps, wildflowers and toadstool mushrooms. By creating a magical atmosphere with lanterns and whimsical details, you'll take your guests on an enchanting, romantic journey through the woods.
Vintage Hollywood
If you're inspired by the glitz and glamour of Hollywood's heyday, a vintage Hollywood-themed wedding can be your personal red carpet moment. Select venues with a touch of Art Deco elegance, like a historic theater or opulent ballroom. Incorporate gold accents, red velvet touches, and vintage movie posters or black-and-white photography. Your guests will feel like stars at your dazzling event!
Travel Adventure
For adventurous souls that are always on the move, a travel-themed wedding may be a perfect choice. You may choose to have a destination wedding at one of your favorite destinations around the world, or decorate a venue closer to home with vintage maps, postcards, and photos and souvenirs from your past excursions. Invite guests to sign a guest book with a short anecdote about the best trip they've ever taken to inspire your next getaway!
Classic Elegance
Some wedding styles are classic for a reason — they're simple, timeless and accessible. Consider traditional venues like historic mansions, elegant ballrooms, or country clubs. Embrace black-tie attire, elegantly understated floral decor, and classy live music. Your wedding will exude sophisticated grace!
Cosmic Love
For couples who believe that love knows no bounds, a celestial-themed wedding is an inspired choice. Look for venues with open skies or outdoor spaces for stargazing, or seek out your local planetarium. Evoke starry night skies with twinkling lighting and a color scheme of deep blue, violet and gold tones. Your wedding becomes a romantic journey through the cosmos, a love story written in the stars.
Bring Your Wedding Aesthetic To Life At The Heritage Center Of Brooklyn Center
When you're ready to find the perfect wedding venue for your dream theme, the expert team at The Heritage Center of Brooklyn Center is ready to help! Contact us today to learn more about our sophisticated yet rustic venue and experienced planning staff. We look forward to helping you plan your big day!