Your next great corporate event needs an equally great seating arrangement. We're here to help you determine the perfect types of seating for events you may have on the horizon.
It may sound silly, but your choice of seating arrangement can make or break your event's success. Brainstorming sessions, group discussions, presentations, and entertainment all require different degrees of engagement and participation from event guests. As an event planner, you can encourage conversation, focus attention or create new connections—all by choosing the right seating arrangement.
Check out our breakdown of the most popular and effective event seating arrangement styles, plus tips on the types of events they best suit.
Choosing the Right Types of Seating for Events
The appropriateness of the different types of seating arrangements varies by the type of event, the purpose of that event, and the audience of that event. The size of your guest list or number of attendees, room size and event agenda will determine which seating arrangements will be most effective for your event. In broad terms, corporate events can be broken into two categories: Conferences or conference-style events, and meetings or meeting-style events. Both styles of corporate events can benefit from different seating arrangements, with some overlap.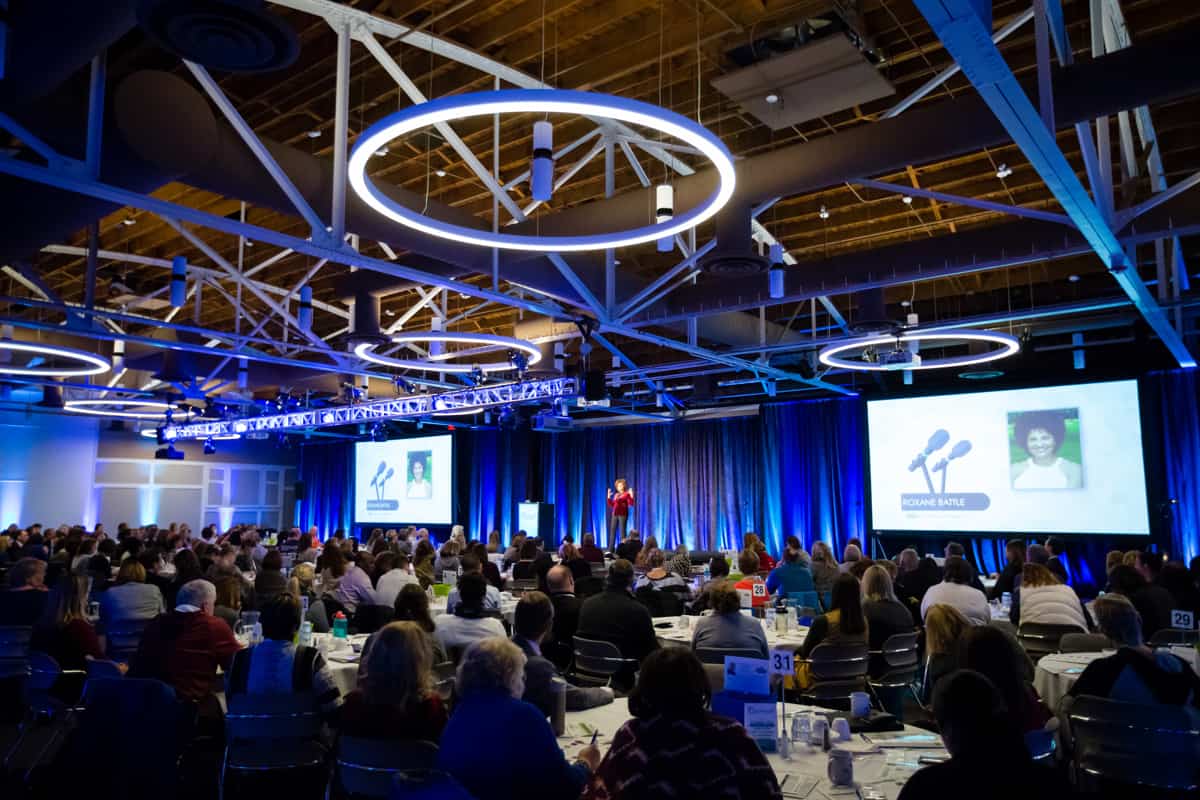 Conference Style Seating Arrangements
Conference-style seating arrangements are exactly what they sound like: Seating arranged for conferences, often around a conference table. The number of seats involved will depend on the dimensions of the room and, if applicable, the central conference table, but generally, conference-style seating is ideal for larger audiences of presentations, speakers, etc. or for conference meals. Popular conference seating arrangements include: 
Meeting Seating Arrangements
For smaller corporate events like meetings, event planners can get a bit more creative with the seating arrangements. A meeting seating arrangement will often place smaller groups around central points of interest, like a conference table, or direct attendees' attention to a speaker or presentation. Popular meeting room seating styles include:
These types of seating arrangements for meetings may also be used effectively in breakout rooms during larger events like conferences.
Different Types of Seating Arrangements
There are many different types of seating arrangements, each with its own strengths and weaknesses. To determine which style of seating will work best for your event, consider your event's theme or purpose and what activities guests will be doing at the event.
Banquet Style Seating
A banquet style seating arrangement gathers small groups, usually of about 8-10 people, around round tables. Multiple tables are spread evenly across the event space. Banquet style seating is, of course, best suited to banquets—namely, any event in which many people will be sitting down for a meal. It is a classic, popular style of seating for wedding receptions, convention seating, formal dinners, galas, and many other events due to its flexibility and space economy.
Banquet seating is a good seating arrangement choice for:
Awards shows or galas
Banquets
Charity dinners or similar
Corporate celebrations, like anniversary parties or similar
Wedding receptions
This style of seating may be ideal for events that require group participation, like a meeting, or that require great sightlines, like a speaking event or presentation.
Auditorium Seating
If you've ever been to the movies or sat in a lecture hall, you've experienced auditorium seating. Auditorium style seating, also called theatre seating, places rows of chairs or built-in seats parallel to a single point of focus such as a stage or presentation area. An auditorium style seating arrangement provides ample room to pack in lots of guests as well as an established space to display slides, logos and other branded materials. Auditorium seating is great for:
Award shows
Press conferences
Product demonstrations
Speaking events or entertainment
Auditorium seating is less ideal in smaller spaces and spaces that do not have access to sound systems. It is not the most effective choice for smaller groups or events that require audience participation, breakout sessions or any meals.
Boardroom Seating Arrangement
Boardroom style seating, also referred to as conference style seating, offers a single long, rectangular table around which meeting participants are seated facing each other. Naturally, you will see this style of seating primarily used in boardrooms, conference rooms and other smaller spaces. Boardroom style seating is very conducive to group discussions and shorter presentations, and is a good match for events like:
Brainstorming sessions
Breakout groups at larger conferences
Brief visual presentations or pitches<
Conference calls
Contract signings
Executive meetings
Small corporate meetings
Boardroom seating is less useful for larger groups and events, particularly events that have an element of entertainment like dancing, performers, speakers, dining, etc. However, boardroom style seating may be OK for meetings that also include a snack break, boxed lunch or working lunch for a small group.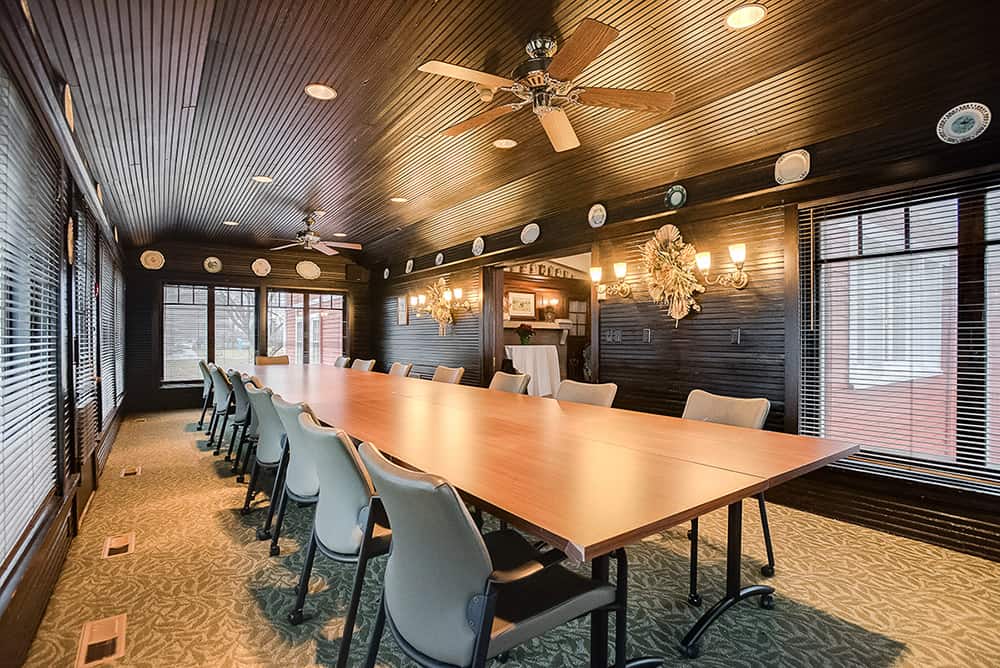 Classroom Style Seating
Classroom seating typically places long tables of 4 participants each in rows about the width of the room, sometimes split into columns. Individuals are seated next to one another, but with adequate "elbow room" so each may focus on their own notes, brainstorming or work. Classroom style seating arrangements are, of course, best suited for presentations and trainings similar to what you remember from your school days, but it can be useful in other corporate settings as well. This seating arrangement works well for:
Certification courses & testing

Group trainings

Larger, less "hands-on" brainstorming sessions

Presentations

Product workshops
Like auditorium seating, classroom style seating can often pose issues re: audiovisual capabilities and may feel crowded in smaller rooms depending on group size. It also does not lend itself to activities that require lots of group work or back-and-forth conversation, like intimate brainstorming sessions or team-building activities.
Hollow Square Seating Arrangement
The hollow square style seating arrangement is largely self-explanatory: It involves seating guests facing one another at long tables that have been arranged in a square, with empty space in the middle of that shape. This arrangement helps to facilitate conversation and collaborative work, and can also be used for meals or working lunches. Hollow square seating might be a good fit for:
Brainstorming sessions

Group trainings

Smaller (<30 guests) collaborative meetings

Working lunches

Workshops
Like its cousins, the auditorium seating arrangement and the U-shape seating arrangement, the hollow square style of seating is less conducive to presentations or anything requiring focus on a central point of interest. It also does not necessarily make the best use of floor space, so be sure to determine the size of the room before selecting this seating arrangement.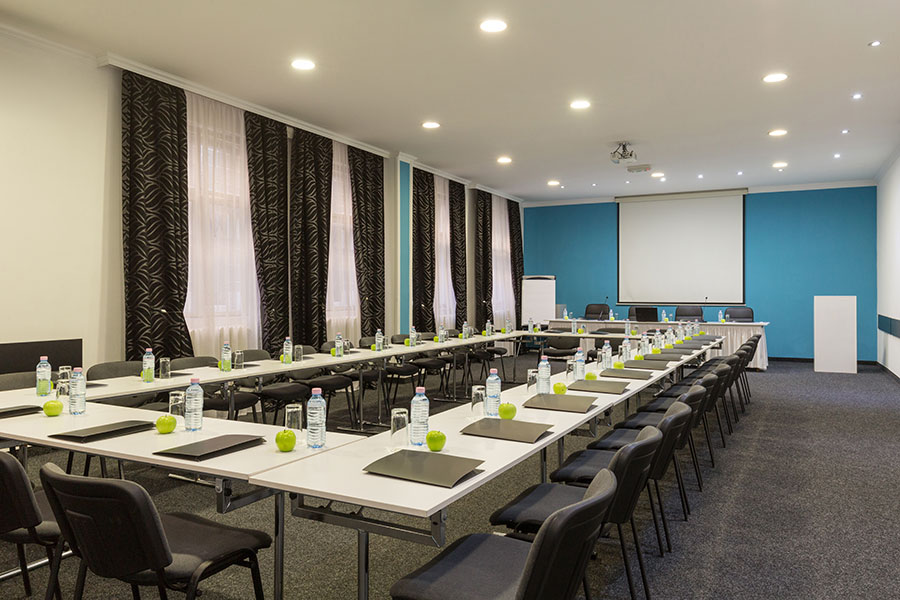 U-Shape Seating Arrangement
U-shaped seating is another type of seating arrangement with an illustrative name: Also called horseshoe seating, it features a group of tables in the shape of a box with a hollow center and one open end—i.e. the shape of a "U". It is similar in purpose to hollow square seating, as it promotes group discussion and idea-sharing, but with an added bonus of directing attendees' attention to the open end for presentations, speaker, etc. This is a more casual seating arrangement ideal for events where the presenter or speaker will be dialoguing directly with the audience.
Use U-shape seating arrangements for intimate groups like:
Breakout groups at larger conferences

Brief visual presentations or pitches
Small group trainings
Team meetings
Workshops
U-shaped seating does not work very effectively for large or very large groups, nor does it work well for extremely small groups. It is not an appropriate floor plan choice for executive meetings or meetings that do not include some element of presentation. It is most effective in settings where an engaging speaker or group leader will be presenting or guiding conversations.
Crescent Conference/Meeting Seating
Crescent style seating looks similar to banquet style seating, but leaves one side of the table empty to direct guest focus toward a presentation, speaker or performance. Oval or round banquet tables typically would have 5-7 chairs facing to the front of the room as much as possible.
Crescent style seating works well for:
A keynote/general session room that can double as a lunch space when needed
Award shows or galas
Charity dinners, auctions or similar events
Corporate celebrations that feature a presentation or speaker
Planning a Seating Arrangement
Now that you have a frame of reference for the types of seating arrangements and how best to use them, you're ready to plan your own seating arrangements for your corporate events. Here are some helpful tips to keep everything running smoothly:
Keep the Right People Together
At many events, guests like to be seated near people they know, especially during events like weddings and banquets. For corporate events, your guests may prefer to be seated with or near their co-workers. Keep these types of preferences in mind as you choose your seating arrangement and design your seating chart. In some instances, like during a networking event, it may be advantageous to place strangers next to one another to encourage mingling and connection-building.
Informal Seating Arrangements vs. Formal Seating
Your seating arrangement shouldn't stress out you or your attendees. Assigned seating can take the anxiety out of your event for you as a planner and your guests. Just be sure to consider social elements—like corporate rivals, former employees or separated couples—when choosing who sits where. You don't want your seating chart to cause any unnecessary drama! 
On the flip side, for a more casual meeting or event, it may be more appropriate to simply let your guests choose where to sit. While this may result in some guests being isolated or left out, you can prevent this unwanted outcome by gently directing guests to the less-filled tables or rows.
Consider the Needs of Your Guests
Finally, it's important to consider your guests' unique needs before you finalize any table and seating arrangements, floor plan, or seating assignment. Factor in the accessibility needs of your guests, which may include (but are certainly not limited to) proximity to elevators or ramps, proximity to speakers or sightlines to translations/translators, proximity to restrooms or nursing rooms, etc. Alternatively, elderly or very young guests may appreciate not being seated near loudspeakers, active areas like the kitchen or bathroom, or similar. Do your best to consider any potential accommodations early in the planning process.
Seat Your Next Event at the Heritage Center of Brooklyn Center
Ready to put your perfect seating plan into action? Host your next event at the Heritage Center! Our planners are experts at successful corporate events and would be delighted to help you make your next meeting, conference or celebration extraordinary. Contact us today to connect with one of our planners!